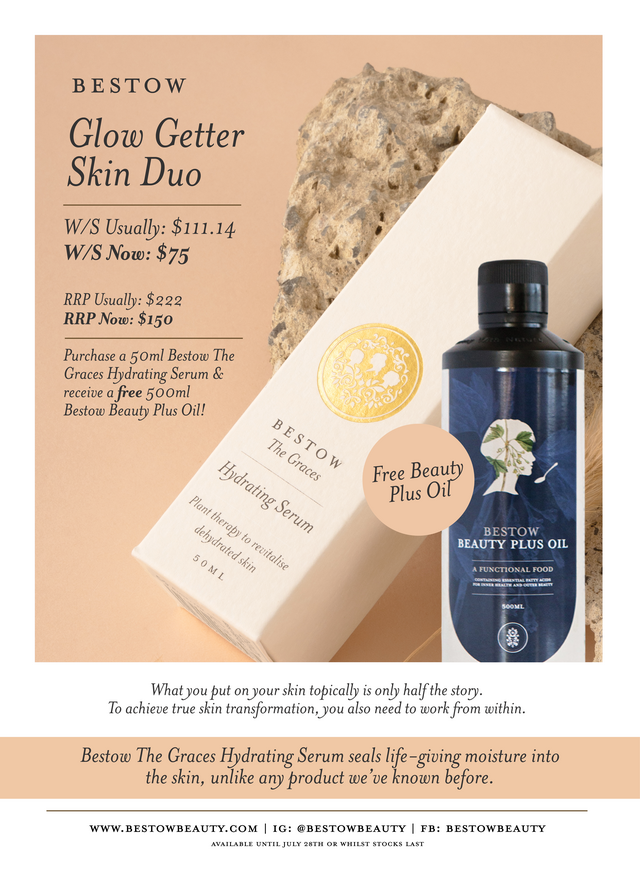 Bestow The Graces Hydrating Serum seals life-giving moisture into the skin unlike any product we've known before. Hyaluronic acid is an incredible ingredient for hydrating our skin, and it comes in different molecular weights that target different layers of the skin. The smallest size can even help with collagen production.

Based on this discovery, we invested in four different molecular weights of hyaluronic acid and blended them with an array of hydrating ingredients to create this skin-changing serum we know you'll love!

But as we are aware, what you put on your skin topically is only half the story. To achieve true skin transformation, you also need to work from within.

So, we have teamed up The Graces Hydrating Serum with the Bestow Beauty Plus Oil to bring out the very best in your skin. These two amazing products work together to seal in precious moisture. Soft, radiant skin will become your 'new normal'.

Bestow Beauty Plus Oil is an excellent source of Essential Fatty Acids (EFAs) for skin health and general wellbeing. Most people will be deficient in EFA's without even knowing! This can cause problems with oil regulation, meaning a deficiency can present itself as either dry or oily skin. Combat that with this incredible duo!
Savings:
NZ$
36.14
(a 33% discount)
Contact Details
Request More Information
Details of the product above will be automatically included with your enquiry.